Harriet G. Moore. Assisi
Arte? Presente.
Guida alle opere d'arte all'aperto del comprensorio di Assisi
scheda n°8
Harriet G. Moore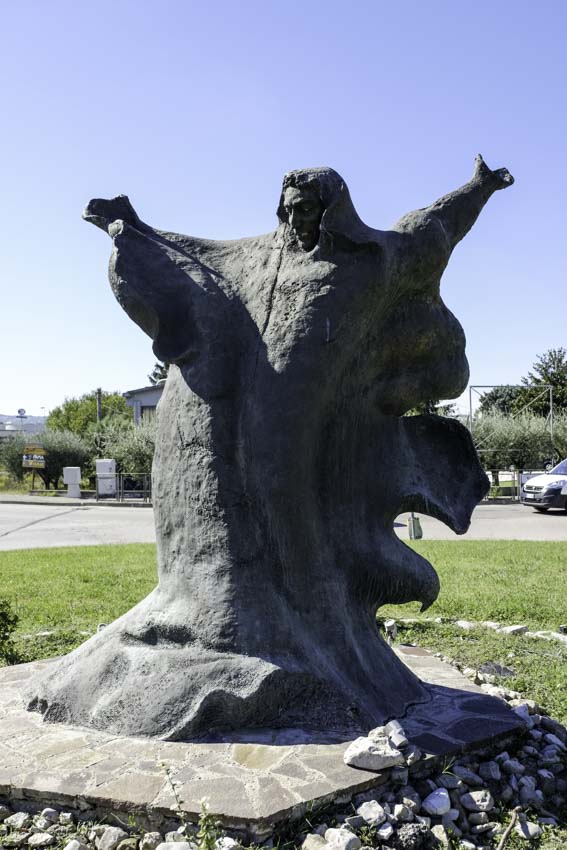 di Enrico Sciamanna 16/10/18
foto di Marco Francalancia
sezione Rotonde stradali
Autore – Harriet G. Moore
Titolo opera – San Francesco di Assisi
Anno realizzazione – 2002
Ubicazione – Assisi, Santa Maria degli Angeli, v. Diaz
Vai all'Indice generale della Guida
L'ultimo capolavoro di Harriett Moore è la statua di S. Francesco di Assisi che dona alla città nel 2002.
Collocata in prossimità della zona industriale di S. Maria degli Angeli, in via A. Diaz, è un'opera in bronzo di ca. 3 metri di altezza. Frutto di una fusione, ricavata meticolosamente da un originario modello in terracotta, se ne rilevano ancora i segni superficiali: increspature, graffi, porosità. Raffigura un uomo, S. Francesco, totalmente ricoperto da un ampio abito, mosso dal vento, che giunge fino al basamento, un opus di pietre e cemento e da cui sporgono il capo e la mano sinistra, mentre la destra, quasi a citare il Vangelo, è tenuta all'oscuro. Le braccia sono aperte, la postura è fiera, a confrontarsi con "le creature". Il volto, modellato con cura e sapienza è quello di un giovane dalle fattezze regolari e nobili, è leggermente piegato verso il basso, così come gli occhi che sono socchiusi in un'espressione intensa. Risente dello stile delle scuole di scultura francesi dell'Ottocento di cui conserva il garbo e la cura del dettaglio.
Nota biografica
Harriet G. Moore (1920 – 2018), è nata a Greenwich CT, ha conseguito il diploma della Rosemary Hall High School, e al Bennington College si laurea in scultura. È un'artista completa che espone le sue opere in bronzo, marmo, terracotta, in molte gallerie e musei degli Stati Uniti. Alcune opere fanno addirittura parte delle collezioni del Museum of Modern Art in NYC e del Peninsula Art Museum in Belmont, CA, così come di molte raccolte private.
Informazioni, immagini e approfondimenti da siti web sulla figura di Harriet G.Moore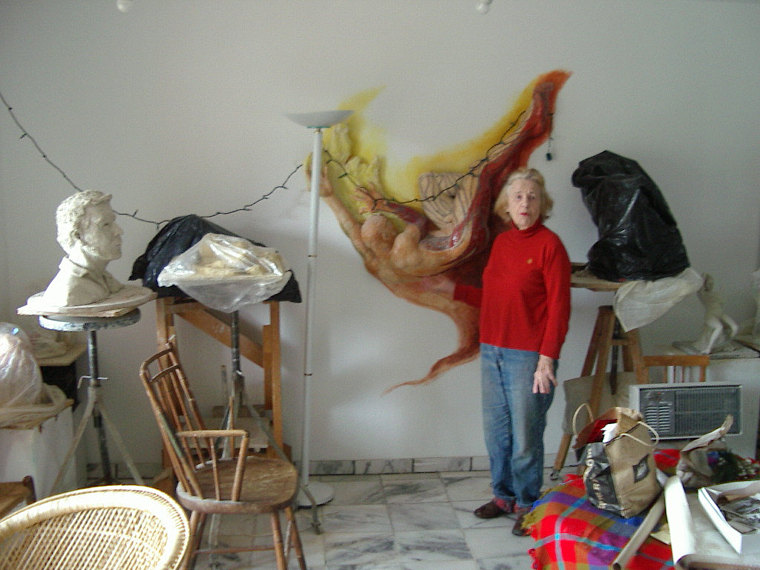 The site features artwork from the estate of Harriet G. Moore. Over the past decade, Alzheimer's has claimed another victim in Harriet and she has become unable to attend to her favorite pastime – her artwork. Her extended family is interested in selling Harriet's remaining artwork, either as individual pieces and/or as a lot. This site is maintained by Tom Froehlich, Harriet's son-in-law. Tom is a retired IT professional living with his spouse Christine in San Leandro, a small town in the San Francisco Bay Area. All the art is on premises for display
Artist Bio
Harriet Moore was born in New York City in 1920. As a child, she was strongly encouraged to pursue her interest in sculpting and attended private progressive schools with a heavy emphasis on the arts. From 1938 to 1942, she attended Bennington College in Vermont, majoring in sculpture. She spent a nonresident junior year in Mexico City, studying stone carving with Luis Ortiz Monasterio. After graduating from Bennington, she studied modeling the figure and portrait with Jose de Creft at the Art Students League in New York City.
Harriet married in 1945, living in New York City until 1952. She then moved to Westfield, NJ, where she lived for the next 24 years, raising 3 children. In 1976, she moved to San Francisco, where she currently resides.
Harriet has completed more than 50 commissioned portraits of private individuals and public or historical persons, for public places on both the East and West coasts and overseas. Her media include bronze, terra-cotta, wood, and stone, as well as prints and drawings.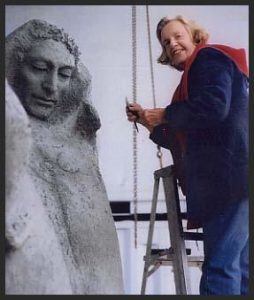 Her major oeuvre for 20 years has been an interpretation of Dante's Divine Comedy in paintings and sculptures exhibited in NYC and at San Francisco's Grace Cathedral, Fort Mason, Vorpal Gallery, and the Shrine of Saint Francis. Other works include: Hygeia, Goddess of Healing, in marble, and Florence Nightingale, in bronze, both at UC Medical Center. She created Angels for the sanctuary at St. Boniface Church and recently, Rev. Cecil Williams and poet Janice Mirakitani in terra-cotta.
Her latest work is the permanent placement of a 9 1/2′ bronze statue of Saint Francis in Assizi, Italy. An unveiling took place in October of 2002. She is now working on plans for a 2nd St. Francis for the city of San Francisco, with the help of Artists Embassy International, the Sister City Committee, and the Director of Museo Italo Americano.
Selected Solo Exhibitions:
1998   Shrine of Saint Francis, San Francisco, CA, Interpretations of Divine Comedy
1996   Museo Italo Americano, San Francisco, CA, Unveiling of St. Francis Statue
1990   Rosicrucian Egyptian Museum, San Jose, CA, Interpretations of Divine Comedy
1982   City Lights Books, San Francisco, CA, Erotic Visions: Drawings and Pastels
1981   Italian Cultural Institute, San Francisco, CA, Interpretations of Divine Comedy
Vorpal Gallery, San Francisco, CA, Interpretations of Divine Comedy
1978   Grace Cathedral, San Francisco, CA
1974   St. Peter's Lutheran Church, New York City, Interpretations of Divine Comedy
Selected Group Exhibitions:
1996   Pacific Rim Sculpture Group – Krautz Ironstone Vineyard; Murphys, CA
Anne Saunders Gallery, Sonora, CA
Sierra Arts Council Gallery, Sonora, CA
Vault Gallery, Sonora, CA
1991   Pen & Brush Club, New York City: Sculpture – Women Artists
1980   Academy of Arts and Letters, New York City, 67th Annual, Allied Artists
1969   Trenton Museum, Trenton, NJ, 2nd Annual Juried Exhibition of Painters
1952   Bertha Schaefer Gallery, New York City
1952   A.C.A. Gallery, New York City
1952   Museum of Modern Art, New York City, "Modelers, Carvers, Welders"
Collections and Commissions Include:
1993   Portrait bust of Rev. Cecil Williams; collection of Glide Memorial Church; San Francisco
Portrait bust of Janice Mirikitani; collection of Glide Memorial Church; San Francisco
1988   Portrait bust of Fernando Pacheco; Yucatan, Mexico
1987   Angels for the Altar, Saint Boniface Church; San Francisco
1986   Portrait bust of Rev. Anthony Maraschi, Founder; Univ. of San Francisco
1985   Portrait bust of Louis Pasteur; French Hospital Medical Center; San Francisco
1984   Portrait bust of Hygeia, Goddess of Healing, UC Medical Center; San Francisco
1983   Portrait bust of Florence Nightingale, UC Medical Center; San Francisco
1982   Marble statue – Angel of Love, collection of Helmut Huber; Hamburg, Germany
1978   Portrait bust of Rollo May, collection of estate of Rollo May; Tiburon, CA
Portrait bust of Duccio Polastro; Rome, Italy
Teaching and Art Related Employment: 
Private Sculpture Studio:   clay modeling, figure and portrait bust, stone carving; San Francisco
Private Sculpture Studio:   clay modeling, figure and portrait bust, stone carving; New Jersey
Le foto di Marco Francalancia